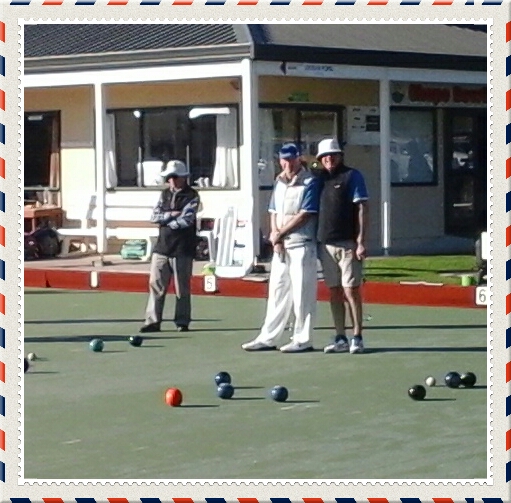 Bowls has all the elements of a fine competitive sport, finesse, aggression, challenge and above all fellowship. We believe you will find bowls exciting, absorbing and dare we say it even obsessive. For your first five years at OHOPE you are graded as a junior player. These are your learning years but they go surprisingly quick, so make the most of them.
Getting Started
Get involved in as many roll-ups, tournaments and championship events as you can. In doing so you will gain experience and learn almost everything you need to know about the game and of course the Club.
If you're not sure of anything, please don't hesitate to ask.​​​​​​​
COACHING
Take advantage of every opportunity in which any form of coaching is offered. Even successful and experienced bowlers seek coaching from time to time.
PRACTICE
Like every other sport, practice will improve your game. Practice almost every day there isn't an organised Tournament on. Mats and Jacks are available from the greens sheds.
CLUB DAYS
Take advantage of playing in weekly roll-ups and Club Mini Tournaments as often as you can. It's the best way of getting to know your fellow members, and being recognised for your improving ability. You will play with some very experienced bowlers. Some of them due to age may be past their bowling best, but they still have wise heads. 'Observe and Listen.'
You will pick up many helpful tips, the language peculiar to bowls, and many of the rules of the game.
TOURNAMENTS
These will also give you the opportunity to visit other Clubs and compete against a much wider range of players. Study the Club programme and watch the Tournament Board.
Don't wait to be invited into a team. Make it known that you are keen to play and enter your name in the space provided for single entries.
It pays to keep a note of your entries. Using the diary in your handbook is helpful.
CHAMPIONSHIPS:
The event for which you are eligible in your first year only is the First Year Singles. This event is a must. There's no strain, no pain just a lot of good, but intense fun.
As good as the First Year Singles is the Junior Singles title is the one to aim for. Give it a go in your first year as well. After a season or two you will be able to build on the experience because your draw game will become more consistent and singles is essentially a drawing game. Also, by this time, you'll have a better appreciation on tactics and other shots to be played.
Club Championships are open to all members. These comprise Singles, Pairs, Triples and Fours. First year players don't always participate in these events but show any sign of promise and it will not be long before you're invited into a team and are battling it out with the best.
STARTING TIMES:
Championships and other tournaments usually start at 9am but there are variations (refer to your handbook). Always check to avoid being late and disrupting the draw. Reporting time for all events is 15 minutes before play is due to start but as refreshments are often provided before a Tournament be early and enjoy a cupper with your team. You'll need this to check in with your skip, pay entry fees, and determine which green, rink etc .., you'll be playing on.
ETIQUETTE:
Like all sports, bowls has a code of ethics based on good sportsmanship and behavior. Many of these, such as not interrupting a player about to deliver his bowl, are obvious. Others are peculiar to bowls and are picked up fairly quickly. Keep your eyes and ears open and don't hesitate to ask. Umpires are available within the Club to explain any aspect of the rules of the game you may require advice on.
As a First Year Player your position in any team will normally be as lead (a very important position in the team) Each member of the team has a task to perform as well as playing his bowls. Your coaching training will incorporate and outline the lead's role including the do's and don'ts.
CLUB ACTIVITIES:​​​​​​​
The Club promotes a number of social activities and by joining in these you will make lasting friendships which will help you settle quickly into the Club and the team environment.
OHOPE also provides MahJong Club, Cards Clubs and other indoor pastimes.
ENJOY YOUR BOWLS AND REMEMBER YOU ONLY GET OUT OF THE SPORT WHAT YOU PUT INTO IT
Bowls Etiquette
PUNCTUALITY:
Introduce yourself to your team and opposition. Shake hands, wish a good game, toss a coin
DRESS:
Be correct in your attire. Check the handbook or entry form whether mufti or whites (or team or club colours) .
DISTRACTIONS:
Whilst your opposition is on the mat, keep quiet and don't create shadows. Give them space about 2 metres. Avoid heavy breathing down their necks from your keeness to get on the mat.
ENCROACHING:
When you roam into the next rink whilst you are willing your bowl to be brilliant. This is not only annoying, it is illegal and can bring down the wrath of the Umpire on you.
BE AWARE:
As you are about to step onto the mat, check to see if the bowler on the next rink is about to bowl towards you. This can distract you or cause the 2 bowls to crash together. Step off the mat and wait till they have bowled.
LISTEN:
Your skip might want to direct you, always follow the skip's directions. This is also in the laws of the game.
COMPLIMENTS:
Keep encouraging your team but don't over do it with your opposition. "good bowl" just once is enough, any more and you'll find you will be boosting their confidence. Save it until after the game.
AVOID:
Sitting in the ditch, it gives a bad impression, you look tired and beaten. Stand up, watch the game and the line of the bowls and lend support to your team. Idle chatter should be restricted to lunch breaks and maybe roll-ups.
CHANGING ENDS:
Place the next skips bowl on the mat, this is a courtesy which seems to be slipping these days, this is done by one of the directors. Do not precede the last bowler up the green whilst their bowl is in motion, they have the right to watch the progress of their bowl. Do not stop and chat half way up the green. Try not to dawdle and stay in the middle of your rink, preferably not four abreast.
HOUSEKEEPING:
All bowls must be behind the mat and to one side before putting up the jack. Carry 2, kick 2 works, be careful where you are kicking though, ankles can be broken, fingers split, next rinks head destroyed, not a popular person.
TIME:
Do not waste time in a time limit game, keep it rolling but be careful, don't get flustered.
STANDING ON THE HEAD:
This is encouraged now, but rember to stand very still, to one side and back from the head. Do not put your shadow over the jack.
MAT:
Pick up the mat after the oppositions last bowl and place it on the bank. In singles you may carry the mat to the other end
AFTER YOU BOWL:
As soon as your bowl stops the rink belongs to your opposition.
MEASURING:
If the shot bowl is obvious the other team concedes the shot by taking it out of the head and if there are other bowls to be measured, place the bowl on a cloth to avoid embarrassing errors. Measuring, I work on the theory if you want it, you measure it, but there are times when this doesn't work. If your opposition is incapable due to illness, advanced years or just the need for speed , do it your self. If you can't measure, don't just point at a bowl expecting your opposition to do all the work for you, it is best to say at the beginning of the game what the situation is, thats where etiquette steps in again.
WHEN THE WINNER IS FOUND:
Shake hands, be humble when you win and gracious when you are defeated. It is always tough losing a game but try not to let a game lose you a friend as well. The majority of top bowlers are brilliant to play against – nicer people you will be hard pressed to find. That is something to strive for………therefore you must remember your bowls etiquette.
Laws for Juniors
THESE LAWS ARE ONES WE FEEL THAT JUNIOR BOWLERS (AND OTHERS) NEED TO KNOW TO MAKE THE PLAY MORE ENJOYABLE FOR ALL
LAW 13: POSSESSION OF THE RINK
Possession of the rink will belong to the player or team whose bowl is being played.
As soon as each bowl comes to rest, allowing time to mark a toucher, possession of the rink will transfer to the opposing player/team.
On end change overs, do not walk in front of the player whose bowl is in motion until it has come to rest, as this player/team still has possession of the rink.
The player may give permission to do so, up until then you are to follow them.
LAW 12.1: POSITION OF PLAYERS IN RELATION TO RINK OF PLAY
Players at mat end of the rink who are not playing a bowl should stand at least 1 metre behind the mat.
Players at the head end of the rink who are not controlling play should stand:
– Behind the jack and away from the head
– On the surrounds of the green if the jack is in the ditch
– Well clear of the head if not possible to stand on the surrounds
NB: If at any time you feel like sitting down DO NOT sit on the banks as this is the official playing field, there is plenty of seating at ends of rinks.
LAW 12.2: IN RELATION TO A NEIGHBOURING RINK
A player should not go into a neighbouring rink where play is in progres
A player should neither go into nor walk along a neighbouring rink, even if it is not being used, while an opponent is delivering or about to deliver a bowl.
If the rink is an outside rink, a player should neither go into or walk along the section of green that lies between the outside boundary of the rink and the ditch while an opponent is about to deliver or is actually delivering a bowl.
LAW 37.6: BOWL DISPLACEMENT BY A BOWL FROM A NEIGHBOURING RINK
If a bowl at rest is in danger of being moved by a bowl from the neighbouring rink any player at the head can choose whether to:
Lift the bowl at rest to allow the other bowl to pass and then replace it, as long as this action would not influence the outcome of the head
OR
Stop the bowl from the neighbouring rink.
RETURNING OF BOWLS TO THE OPPOSITE END OF RINK
If the Jack and/or bowls need to be transferred to the opposite end of the rink, they should be carried.
This should happen if bowls or ends need to be replayed, and at the end of a game.
LAW 22.2: REMOVING BOWLS FROM THE HEAD
No bowl must be moved until the opponents have agreed whether it is a shot or not.
NB: It is best to wait until the head is declared before kicking bowls back as you run the risk of kicking a bowl into the shots being measured or kicking out a bowl that is to be measured.
LAW 34: OBJECTS ON THE GREEN
Under no circumstances must any object be placed on the bank, the green, in the ditch, on the jack on a bowl or any where else to help a player.
SAFETY
Before starting an end, ensure all bowls are well behind the mat and to one side to avoid accidents.
If all team members help to clear the head it makes lighter work for everyone.
Junior Programme
Information to come.
Club Coaching
Information to come.

Hiring the Clubrooms
Information to come

Bowling
ROLL UP – Summer
Names in by 12 noon for 1:00pm start
ROLL UP – Winter
Names in by 11.30 for 12.30pm start
ROLL UP GREEN FEES
Full Members: $5.00 each player
Visitors: $5.00 per player
CLUB MINI TOURNAMENTS:
Names in by 1pm on the day prior to the Tournament. Check Handbook or entry sheet for start times.
GREEN FEES:
$8.00 per player
OPEN TOURNAMENTS:
Teams or names in by 1pm on the day prior to the Tournament. Games begin at 9:30am (Whites or Team Uniform) $10 per player
CLUB CHAMPIONSHIPS:
Teams (or Names) to be in by 1:00pm the day before. Games begin at 9am (Whites or Team Uniform)
GREEN FEES:
$10.00 per player
SOCIAL BOWLS:
GREEN FEES:
$5.00 per player or $10.00 per family

Subscriptions
   SUBSCRIPTIONS FOR 2022 – 2023 SEASON
FULL MEMBER                   $200
LIMITED MEMBER             $150
ASSOCIATE MEMBER           $45
               STUDENT MEMBER              $40 (<18YR)
SOCIAL MEMBER                   $30
Limited Playing Member – means a person who wishes to play bowls at their Club ONLY.  The rights and privileges of membership as a Limited Playing Member shall be specified in the constitution, regulations and/or rules of the Club, but cannot extend beyond specific club tournaments and events.  A Limited Playing Member can only play in bowls events and within the boundary of the physical club and may not participate in Club Championships, Centre or National events, or at any event at another bowling club.
The Bank Account number for the club is
available from the club office.
If you want to pay your subscriptions by internet banking  enter your name as reference, alternatively you can pay at club bar using Eftpos
NEW MEMBERS WANTING TO JOIN:
The membership form can be downloaded below.
The Men's Bowling Club was established around 1949 as a private Club and run by trustees. The Club was situated in Pohutukawa Avenue near the petrol station and consisted of one grass green.Women were granted the use of the end rink on a Thursday from 1pm-4pm in return for providing afternoon tea. The first clubhouse was a small shed.
The Women's Bowling Club was formed in 1955 & the Men's Club was incorporated early in 1957. Men's subscriptions were 6 pound 6 shillings & the ladies 3 pound 3 shillings. On tournament days the wives supplied a 5 star luncheon and everyone took a plate for afternoon tea. In 1959 the men agreed "that consumption of liquor in the Men's room was forbidden for the Ladies"
In 1992 a Committee was appointed to look into the development of the Club on its present site or the establishment of the Club on another site in Ohope. The Ohope Men's Club started talks with the Ohope Women's Club about amalgamation. In 1993 a site was purchased in Harbour road with two artificial greens and a Clubhouse planned. After applying for grants and much fund raising, deffered applications from the Council and Court of Appeal objections overturned, the project was finally in full swing. In October 1996 the first official Club Day was held. A $600,000 complex including two international sized artificial greens, on freehold land and all this managed by a membership of just 100 men & women. The official opening of the new complex was held in February 1997, and the Men's & Women's Clubs were amalgamated.
 Wayne Fell, Graeme Lee, Ray Owens
New Member Liason Officer
Raewyn Vernon / Mary Gleeson
CLUB DELEGATES TO BOWLS BAY OF PLENTY
Men: Mark Sarginson & Brian Davies
Women: Martie Sisson & Jenny Morris
Bryan Henderson, Kevin Moore